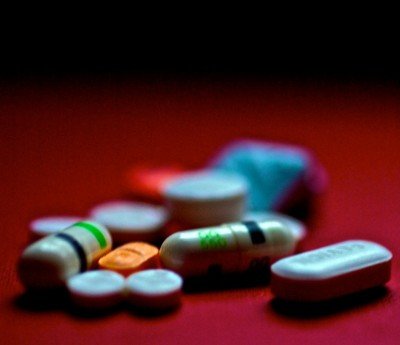 For months now, I've been wanting to write a message about medicine for anxiety, stress and panic attacks. I've been hesitant because it has been a very sensitive issue in my own life for years. And after receiving many emails over the years about medication, I know it's a sensitive issue for others. My goal in this message is to simply share my own experience with medication for anxiety and panic attacks, and to hopefully answer some questions you may have.
First of all, let me state that I'm not a doctor or physician. I've had no medical training, so what I share is from personal experience. Every decision I made about medication was with my doctor's guidance and blessing. I did not make any decisions or take any action regarding medication without my doctor's approval, but I did, however, take control of my medication situation. So, please consult your doctor when it comes to medications.
It started in high school. I was about 17 years old when the anxiety and panic attacks started hitting me pretty hard. I was very confused because in the early 80's, there was no name for this. The term "panic attack" wasn't part of any medical vocabulary. It was called things like anxiousness, nervous condition, and stress. I spent many doctor's visits trying to explain this unexplainable feeling, only to have them stare at me confused. It was terribly frustrating.
It was also when I was prescribed my first benzodiazepine. Benzos, as they are sometimes called, are a class of medications often prescribed for anxiety, panic attacks, sleeplessness, and other conditions. Some brand name benzo medications include Valium (diazepam), Xanax (alprazolam), Klonopin (clonazepam), and Halcion (triazolam). In high school, I would only take the medication when I was feeling anxious or struggling with sleep. And, it was quite effective.
In college, I was diagnosed with "Chronic Panic Disorder". It was the first time in my life that I had a name for this condition. I actually felt some relief knowing that I wasn't alone. But, the anxiety and panic attacks continued to get worse over the years. By the time I was out of college and working, I was taking Klonopin on a regular basis. I carried a couple pills with me at all times "just in case".
There were times I tried other medications, like SSRIs (selective serotonin reuptake inhibitor). These are antidepressants that are sometimes used to treat anxiety disorders, but I didn't like the way they made me feel. My mind was too foggy. There were other non-benzo medications for anxiety that I tried like Buspar, but it didn't really do much for me. The benzos were the quickest acting and the most effective.
When 2000 rolled around, I was taking Klonopin almost everyday, and the panic attacks were at their worst. I just couldn't understand why this medication wasn't working like it used to. Was my tolerance changing? Was my body getting used to it? Did I need a new medication? I just didn't know.
It was also an interesting time for me regarding my spiritual walk. I was growing in the Lord, learning more about faith and God. I had so many questions like:
Should Christians rely on medication?
Was I sinning by taking medication?
Did God want me to get off medication?
I had lots of questions but few answers. I asked around and the responses were varied, even extreme at times. But, I had to find an answer soon, because the panic attacks were getting worse, and the medications were not working. I'll admit that I tried stopping the medication a few times on my own, but the panic returned violently. It was not a good idea.
I began researching benzos and long-term use, and found that not all doctors agree on the effectiveness of long-term use. I knew benzos were like alcohol, in that you could become physically addicted and that a tapering system should be followed if you plan to stop taking them. I found some online forums and started talking with people who had gotten off benzos after years of use. And, after praying about it, I felt like God wanted me to get off this medication.
I called and made appointment with my doctor and explained to her that I wanted to taper off the medication. I explained my situation, what I learned and what I was ready to do. She was hesitant but agreed to work with me. After a prolonged tapering program, I was off the medication in October 2000.
I'll admit, it wasn't easy. But, it's now almost 11 years later, and I haven't taken any medication for anxiety or panic attacks since then. Interestingly, panic attacks no longer control my life like they did. I believe in some ways, the ups and downs of the benzos were actually triggering the anxiety and panic. I don't know for sure, but it's very interesting to me that things began to settle in my mind after getting off the medication. I used this new clarity of mind to get counsel from people and from the Holy Spirit, and began dealing with some deep issues in my heart. I knew true healing would be both physical and mental.
Today, I have a much different view on medication than I did back then. I believe anxiety and panic attacks are a mental and emotional condition rooted in patterns of wrong thinking and lies. Freedom comes from changing those patterns and renewing our minds (Romans 12:2). But sometimes, we need medication to get us to a place where we can receive help. Our nervous system and adrenaline glands may be over sensitized making it difficult to receive healing. Medication can be used temporarily to get us to a place of healing. But after my experience, I don't believe long term use of certain medications can bring true healing.
I believe everyone can experience healing and freedom for chronic anxiety and panic attacks. Your path to freedom is unique, but God promises to "guide us along the best pathway for our lives" (Psalm 32:8). If you're taking medication, be smart in how you pursue freedom. Talk to your doctor and make sure you walk in wisdom. And, seek counsel. Find someone you trust and let them speak into your life–maybe a pastor, an elder or a counselor for church.
Prayer: Father, you desire to guide me along the best pathway for my life. I put my trust in you. You are my Hope. You are my Strength.